Copy of CP + BBO AGC 1.2
Experiencing Hair Loss, Scalp Irritation, Texture Change, & More?

Are you experiencing hair damage? What was once a healthy, thriving curly, coily or kinky fro has just become dead, lifeless, broken and dry?

Not sure exactly why it happened or maybe you do know and now you have massive regret. Well we are here to save you, we created this kit just for you.
---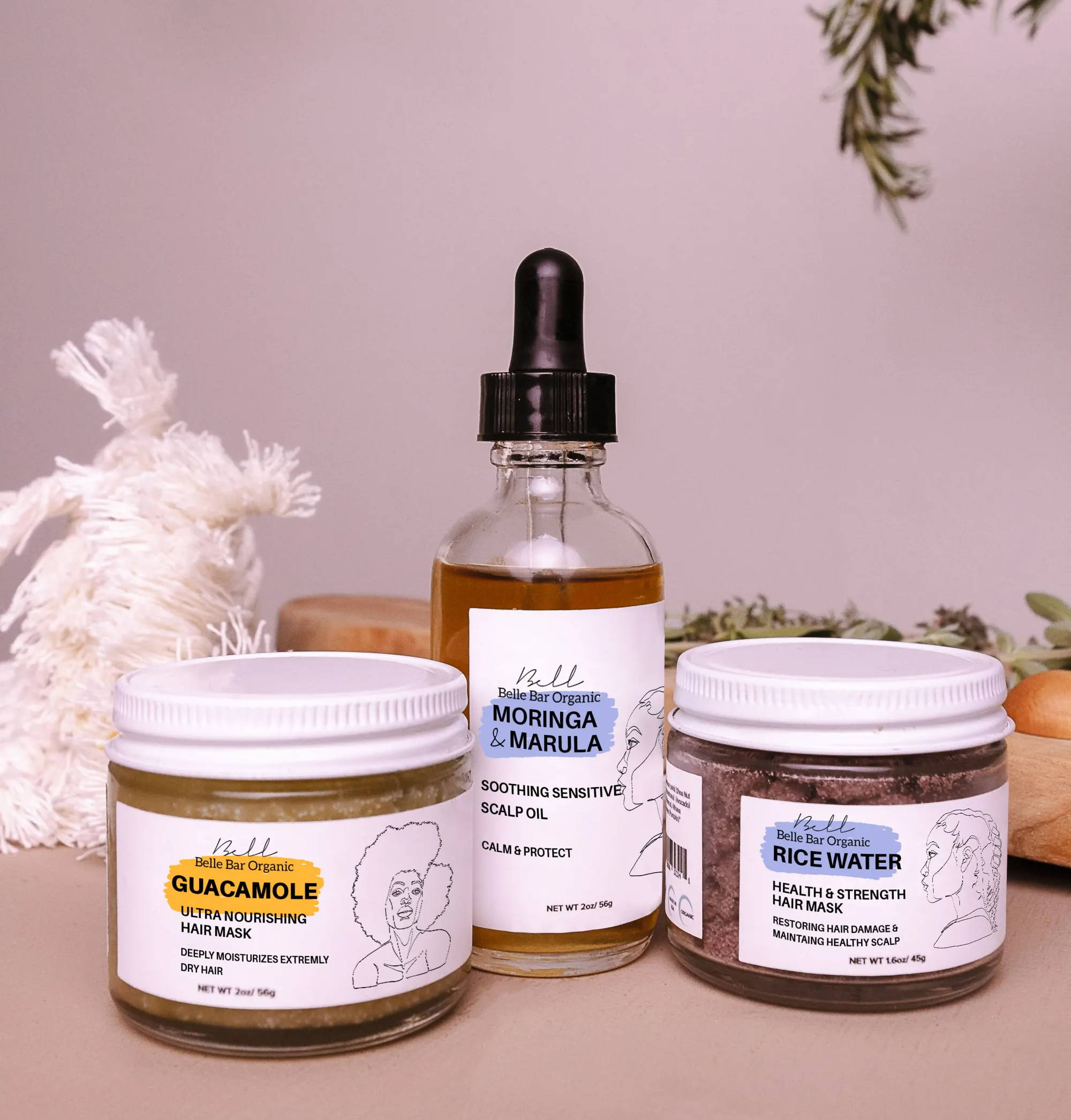 If you feel like you have tried everything and nothing works or maybe you haven't tried anything because you don't know where to start... this is this 4 piece 60-Day hair kit for you.
 Rice Water Hair Mask gently rebuilds the hair shaft 
Guacamole Hair Mask deeply hydrates,
(2) Moringa and Marula OIl soothes the scalp
Witch Hazel Tea Rinse gently cleans and nourishes your scalp and hair follicles.
+ Free 7 day Healthy Hair Mini Course
PUT INVENTORY COUNT HERE!
Free Shipping Over $49 Throughout U.S.
30 Day No Questions Asked Return Policy
2 Free Samples In Every $35+ Order
Over 1000+ 5 Star Reviews
30 Day No Questions Asked Return Policy
Free Shipping Over $49 Throughout U.S.
2 Free Samples In Every $35+ Order
Over 1000+ 5 Star Reviews
  Become Your Own #HAIRGOALS With Healthy Hair!!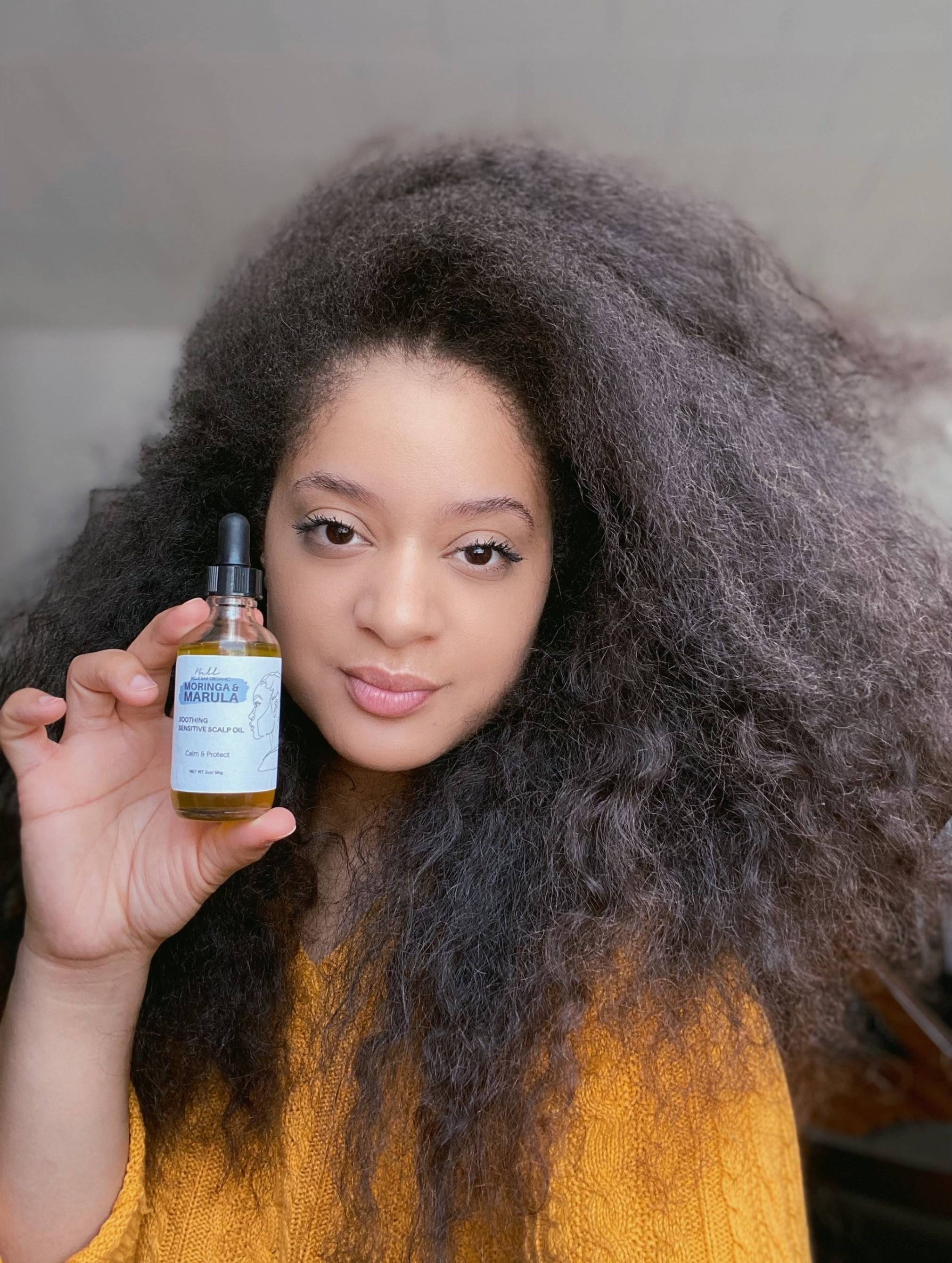 ---
NATURAL HAIRCARE EDUCATION IS JUST AS IMPORTANT AS NON TOXIC PRODUCTS!
What Causes Damage to Curly Hair?

1. NOT HYDRATING YOUR CURLS
Have you ever experience a dry, yet greasy feeling on your locks? It's probably because you bypassed water and headed straight for the oils. Be sure to hydrate your curls with water or a water-based product to keep them moist and lustrous. Then, seal with oil.
2. PURPOSELY SKIPPING WASHES
When your scalp is dirty, your follicles are forced to fight their way to grow hair. Grease, dirt, and product buildup can clog the hair follicles and hinder growth. Keep the scalp clean!
3. NOT LUBRICATING YOUR HAIR
Use products which contain enough slip to make the detangling process easier. Slip is a beauty term that refers to how slippery a product is. Natural hair tangles easily because the tiny coils cling together and knot. Using a lubricant will allow you to slide your curls apart easier.
4. AVOIDING TRIMMING YOUR ENDS
If you don't take the plunge and trim your hair, you're leaving damaged ends free to travel upwards and ruin the rest of the strand. You don't need a specific schedule for trimming natural hair, but try to cut when you notice straggling ends and more tangles.
5. USING SULFATE SHAMPOOS
Conventional shampoos can wreak havoc on hair because they're made for straight-haired people who want to strip the strand of oil. These shampoos can be drying to hair and can lead to unwanted frizz as your hair loses its curl pattern.
5. TOXIC HAIR PRODUCTS & INGREDIENTS
Many products have ingredients in their formulas that strip moisture from it or prevent access to it. Why, because they lower manufacturing costs and increase profits, and because we, the consumers, are not aware of what these ingredients do to our hair.
7. ELIMINATE/IDENTIFY EXTERNAL CAUSES
Sometimes the reason you may be experiencing something with your hair may not be directly related to your hair routine. So it's important you also consider external causes as they can be the problem or it can be a combination of the two – hair routine and external causes.
10 SIGNS OF DAMAGED CURLS
Since curly hair is far more fragile than other hair types, damage can really affect the way your curls look and feel. Here are some sign to let you know if you are suffering from damage.
Split Ends
Split ends can wreak havoc if they aren't dealt with, especially if the cause of damage persists.
Texture Change
Stringy, straight ends and looser curl patterns. These sorts of noticeable changes in texture can be a red flag.
Lack of Elasticity
Damaged hair loses its elasticity, which is what causes our curl patterns to loosen and stretch. 
Tangles Easily
Dry and damaged strands create more friction and snag on to each other more easily.
Breaking & Snapping
Damaged strands break off at the weakest point in the hair shaft and typically vary in lengths but are usually a lot shorter than your overall length.
Excessive Frizz
Any kind of damage can cause frizz since it roughs up the hair cuticle and makes it harder for curls to fall back into place.
Lack of Softness
Damage and dryness can leave your hair feeling rough and prickly.
High Porosity
If you've got high-porosity curls your hair will absorb water more easily, but it also means the cuticle is too damaged to hold that moisture in your hair. This leaves it dry and susceptible to breakage.
Your Regular Routine Isn't Working
Healthy and damaged curls have different needs. Your hair might be trying to tell you that it requires more TLC, so you'll need to switch your hair routine from maintenance mode to protect and repair mode.
---
#HAIRGOALS - All Natural Rice Water Hair and Scalp Rebuilding 60 Day Mini Kit
FOR ALL POROSITIES

4 - Piece Healthy Hair & Scalp Haircare Collection Kit Contains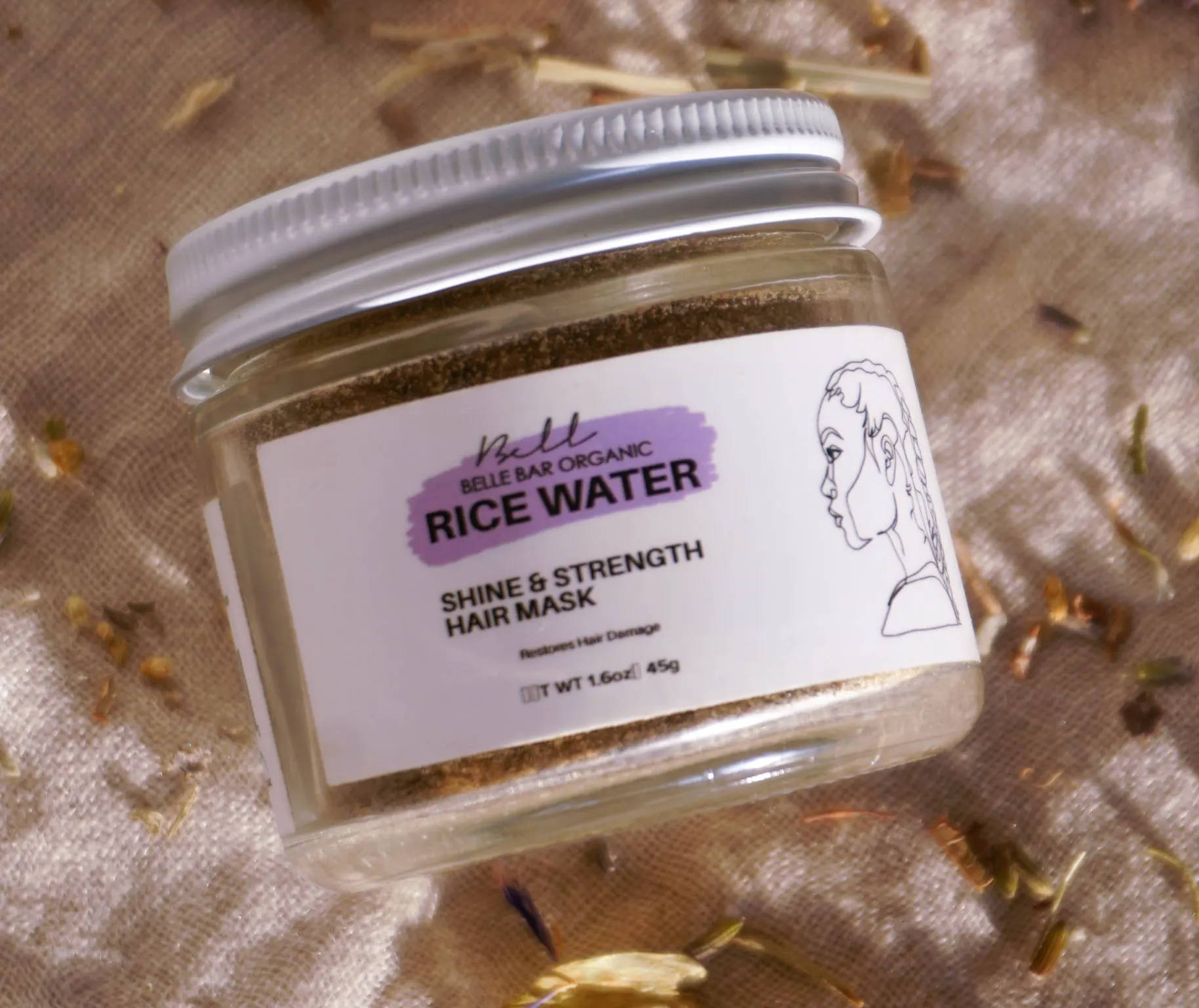 Rice Water Health & Strength Hair Mask
Rice water when used carefully is a great ingredient to rehab and rebuild your hair strands. Studies show that rice water contains inositol, a carbohydrate that repairs damaged hair. This inositol stays in the hair even after the rice water is rinsed off, acting as a shield and protecting your hair from damage. Rice water also contains amino acids that strengthen the hair roots, increase hair volume, and make your hair shiny and smooth. Rice water on its own can be alot of protein to take, that is why we have paired it with other ingredients to add balance and moisture. This is the perfect mask for scalp health, stronger hair strands and overall healthy hair.
Ingredients: Rice Flour: Repairs & Strengthens, Yucca: Reduce Inflammation, Itchiness, and Dandruff That Some Suffer in their Scalp, Rosemary: Thickens Hair, Aloe Vera: Gently Cleanses and Moisturizes Hair, Rosehip Oil: Help Maintain Healthy Scalp, Glycerin: Hydrates, Lavender: Fight Dandruff, and Soothe an Itchy Scalp and Other Infections, Besan Flour: Rich in Antioxidants, Folic Acid, Iron, Copper, Zinc, Magnesium, Selenium, and Niacin
Size Included: Net wt 1.6oz/ 45g. Serving Size: 2.5 Teaspoons. Servings Per Container: 8
---
Ultra Nourishing Guacamole Hair Mask
Avocado is a great natural source for overall hair health, as it's uber nourishing while adding a protective layer over your curls to seal in moisture. With our Guacamole Hair Mask, you will condition your scalp, improve split ends and make the cutie next door, stop by to borrow sugar. Okay, maybe not the last one, but your hair will be re-born once you introduce this mask to your hair-care routine.
Ingredients: Olive oil: Conditions, Avocado fruit: Moisturizing Avocado seed: Nourish damaged frizzy hair, Slippery elm: Volumize, Himalayan Salt: Detoxes, Shikakai: detangles, Eggplant: Restores, Onion: Rids hair loss, Cilantro: Promotes hair growth, Lemon: Packed with vitamin C, rids dead cells from scalp
Size Included: Net wt 1.6oz/ 45g. Serving Size: 2.5 Teaspoons. Servings Per Container: 8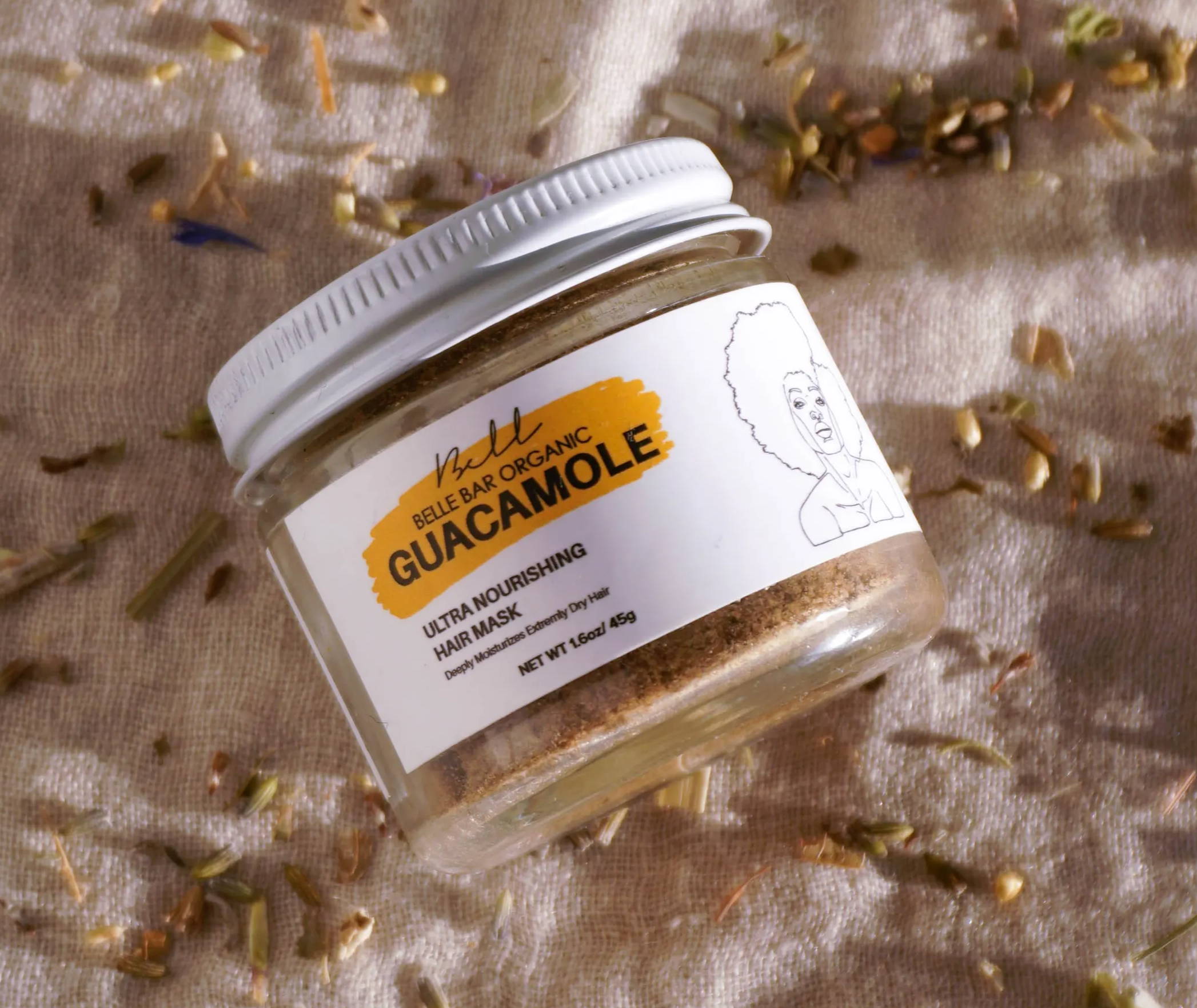 ---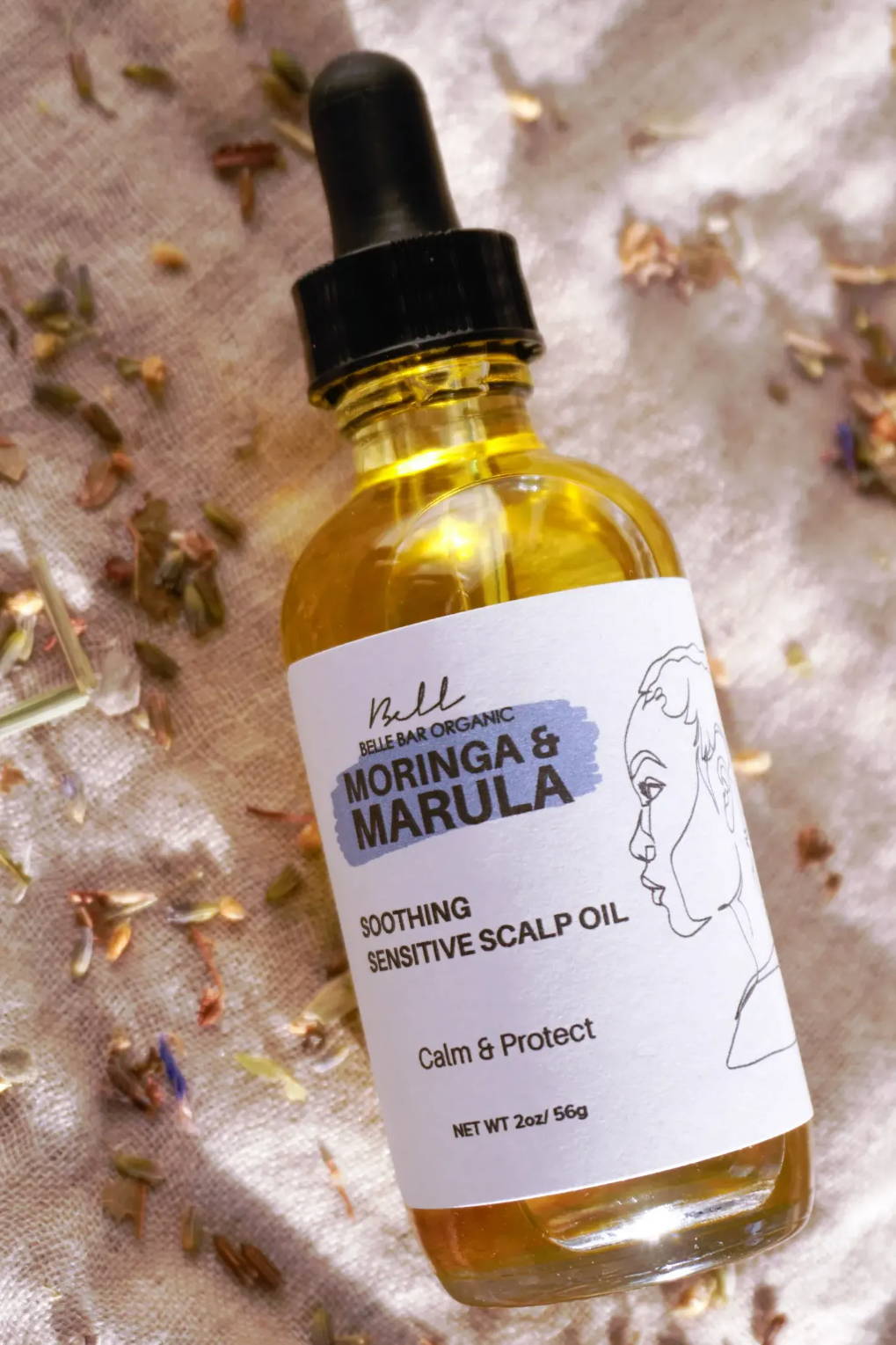 Moringa and Marula Soothing Sensitive Scalp Oil
Moringa Oil is one of the few oils with strong antiseptic properties. it's antiseptic, moisturizing and nutrient-rich. it is also good for balancing the natural oils in dry skin and hydrating skin cells. It also has an oleic acid content of about 65-73% which is pretty high. Oils high in oleic acid are known to moisturize skin cells at a deeper level.
Marula Oil contains a high amount of antioxidants and essential fatty acids like omegas-6 and -9, they absorb deeper and more easily into your skin, since the molecules are much smaller than traditional hydrating oils. Marula oil also has antimicrobial and anti-inflammatory properties. This means that it can aid in killing the bacteria that causes infections and flare-ups of the skin.
Ingredients: Moringa Oil | Marula Oil | Safflower Oil | Avocado Oil | Olive Oil | Neem Oil |Sweet Almond Oil |Aloe Vera Oil | Grapeseed Oil | Rice Bran Oil | Mango Seed Oil | Cinnamon Sticks | Cloves | Calendula Flower |Rose Buds/Petals | Lavender flower | Bay Leaf | Eucalyptus Powder | Chamomile flower |Burdock Root | Sage | Lemongrass | Orange Peel | Hibiscus Flower | Rosemary Red Clover Flower Buds |Basil
Size Included:(2) Net wt 2oz/ 56g
---
Witch Hazel Scalp & Hair Nourishing Tea Rinse
Witch Hazel is nature's (and our own personal) favorite astringent. It helps reduce excess sebum production and balances out the pH of the scalp to keep it happy and healthy. It leaves the scalp feeling renewed and refreshed. Witch hazel helps heal the scalp and reduces inflammation and irritation.
Ingredients: Hibiscus | Conditions, African Black Soap | Naturally Cleanses, Dead Sea Salt | Improves Strength, Aritha (soap nuts) | Mild Natural Cleanser, Witch Hazel | Soothes Itchy Scalp, Dandelion | Removes Impurities, Juniper Berry | Balances, Green Tea | Stimulates Hair Follicles, Apple Cider Vinegar | Balances Natural PH, Dragon Fruit | Increase Collagen, Avocado Oil | Repairs Damaged Hair, Aloe Vera Oil | Resolves Scalp Inflammation, Grapefruit Oil | Add Shine to Hair, Babassu Oil | Naturally Cleanses
Size Included: Net wt 1.6oz/ 45g. Serving Size: 1.5 Teaspoons. Servings Per Container: 8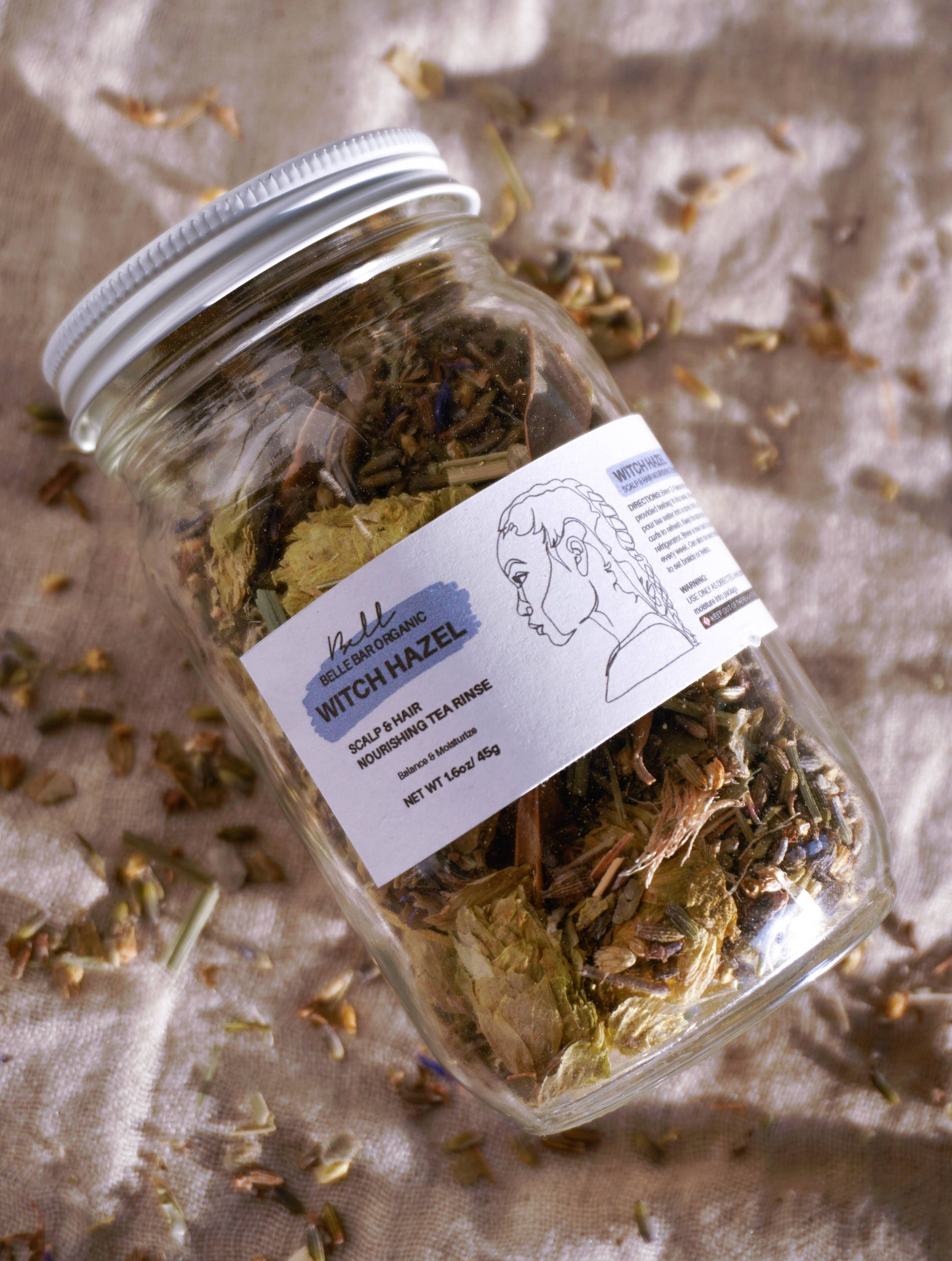 THE PROOF ALL NATURAL WORKS?
RESULTS FROM OUR KITS, CHALLENGES & COURSES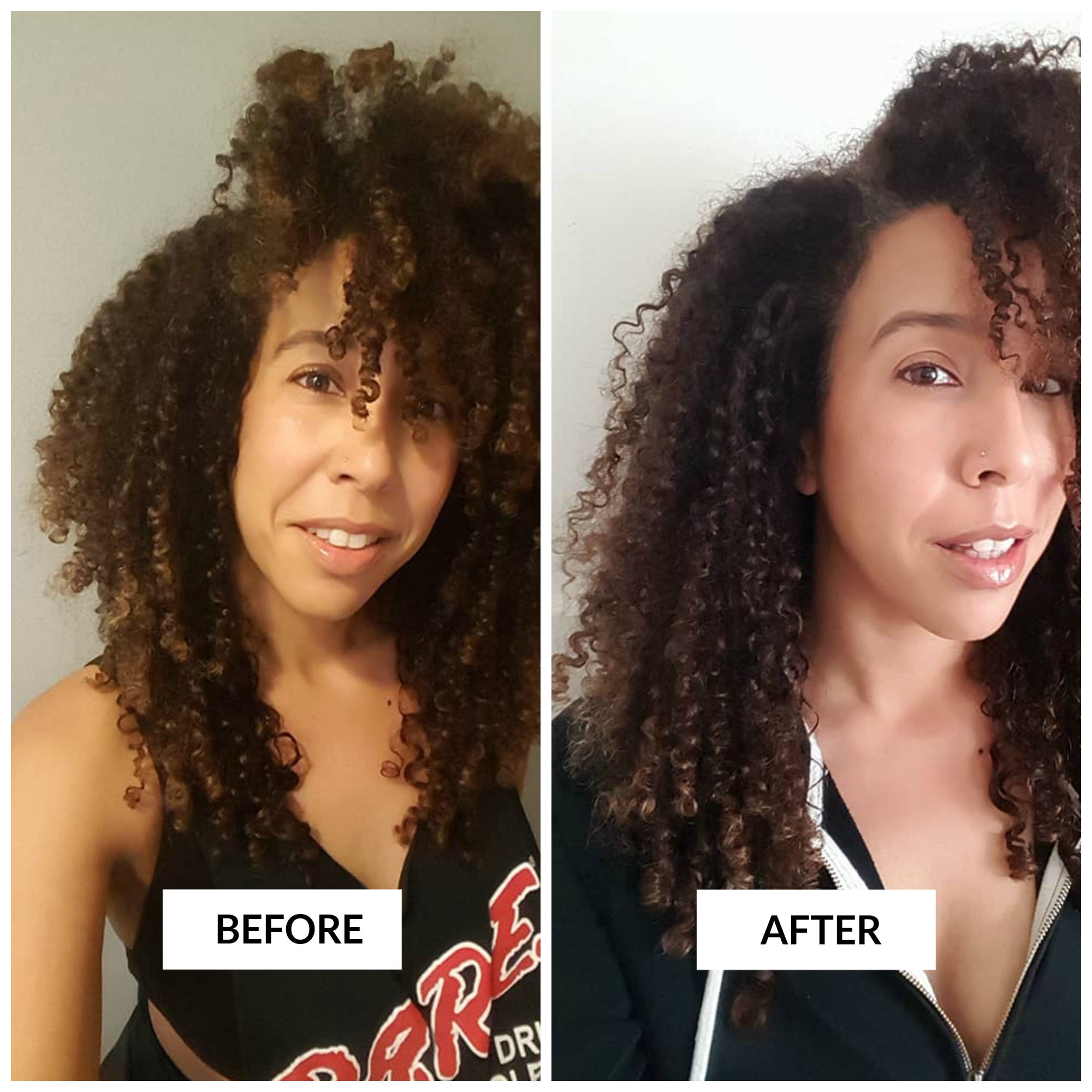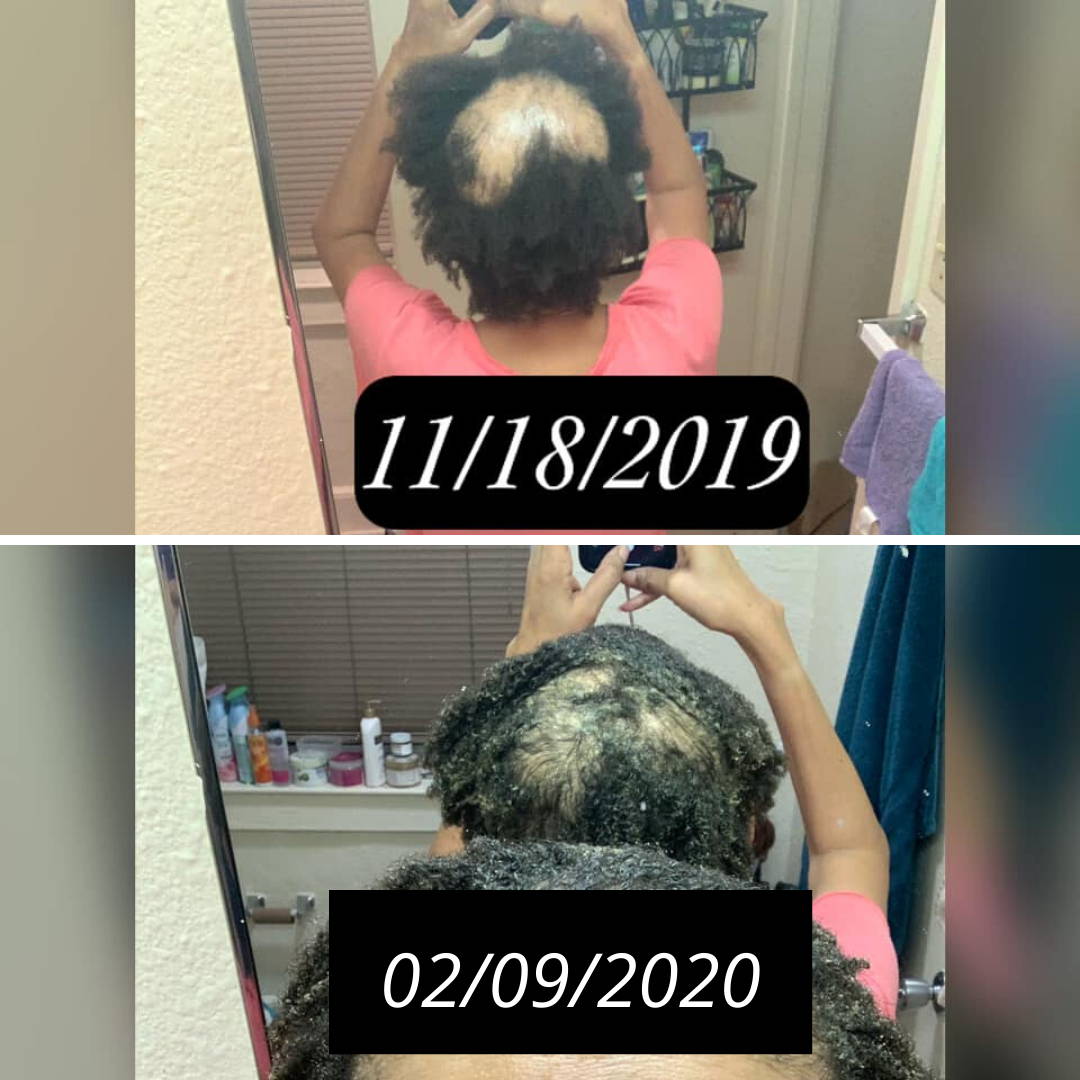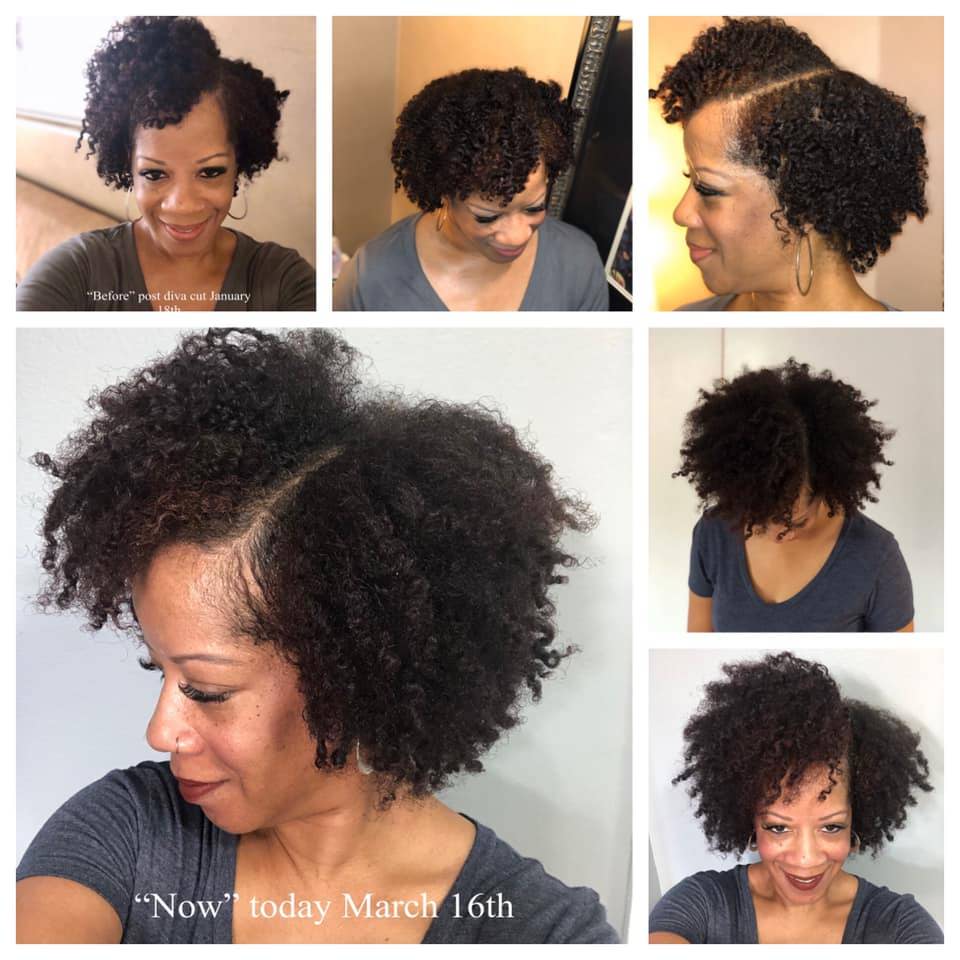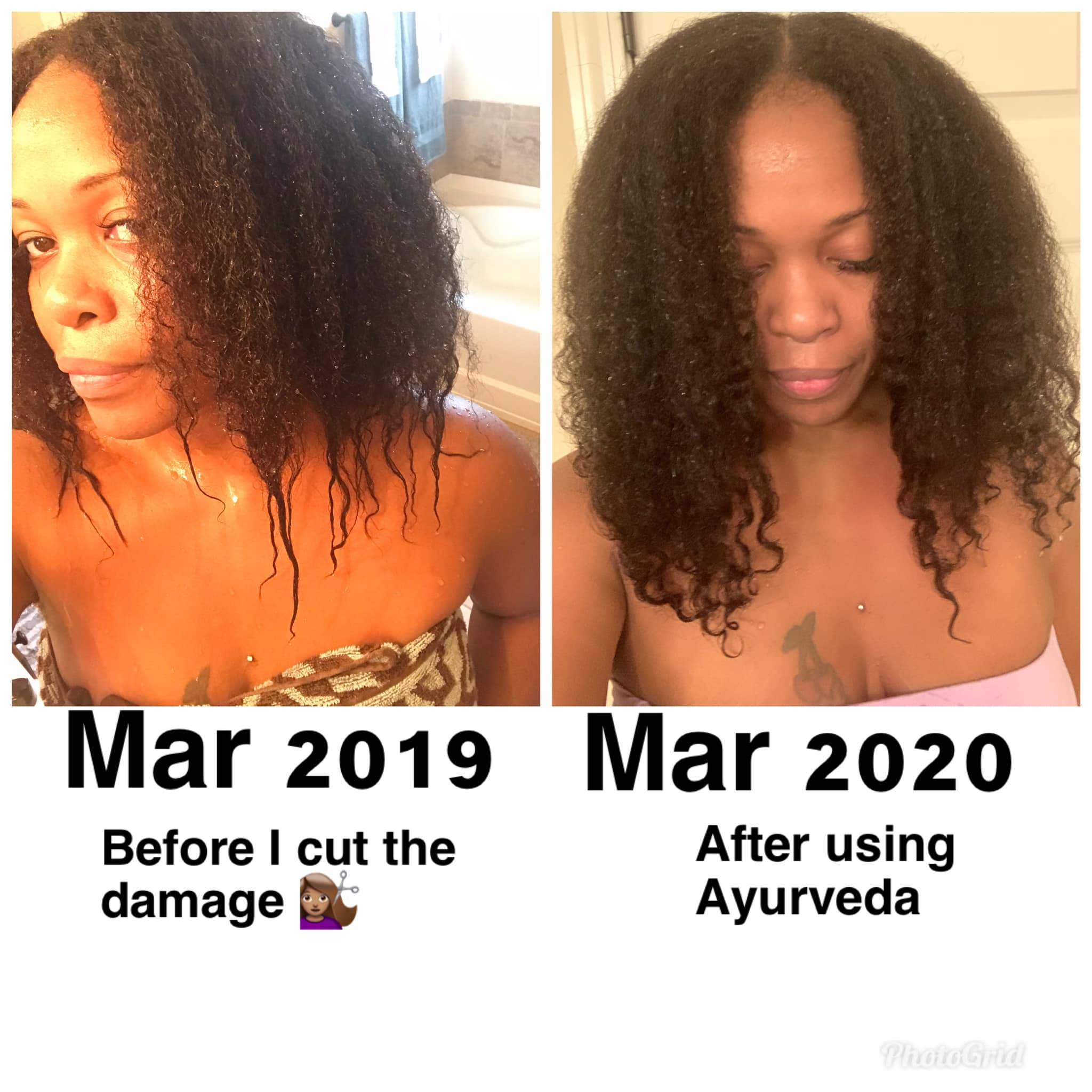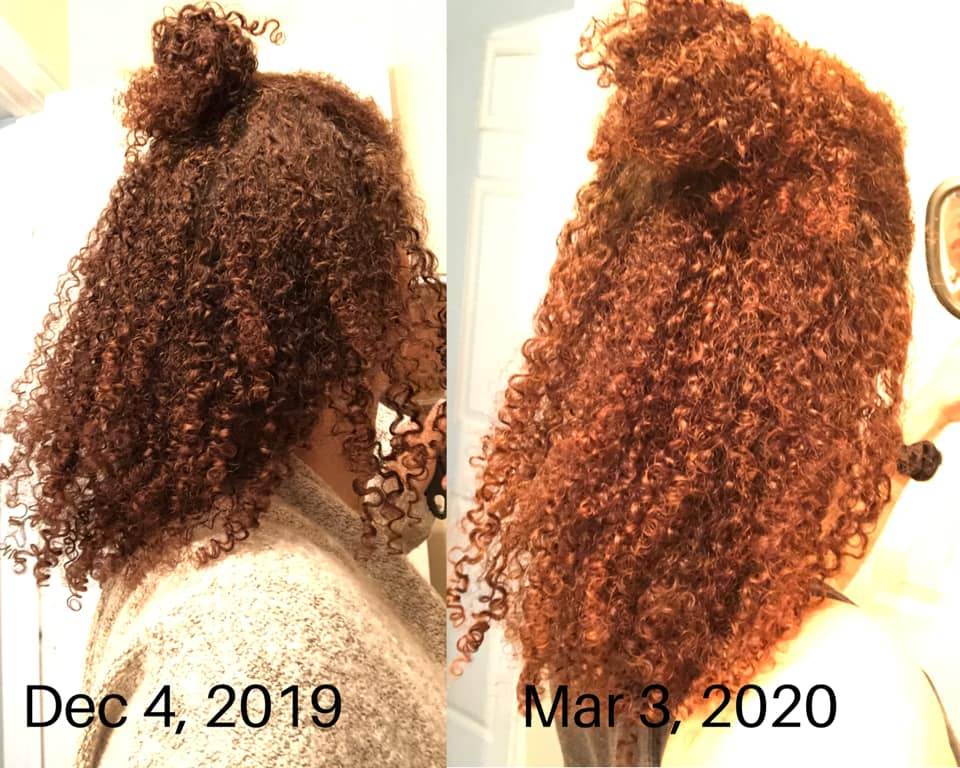 Cecelia A.
WITCH HAZEL SCALP CLEANSING TEA RINSE
"I love this tea. It feels like a "skin peel" for the scalp. My scalp is very sensitive and becomes inflamed and very tender easily. I had a clean soothing sensation when I used it for the first time. This alleviated the itching, bumps and tenderness I've been dealing with in the past few months. Occasionally I'll wake up scratching my scalp at night, but I am no longer experiencing discomfort at night or prior to my next wash day. I highly recommend this product for anyone with a sensitive scalp, or for anyone period. #changeagent"
Kristina H.
Moringa & Marula Soothing Sensitive Scalp & Skin All In One Serum
"This oil is amazing! This oil is my go to for dry, itchy scalp. Which I get really bad since it's winter time now. Since using the oil I have had NO dandruff. Now that's amazing for me. I've noticed that the more you use the oil and keep track the more changes you notice on your scalp and hair. With all the products out there and having to constantly search for what works for my hair with out all the chemicals it's a relief to find something made by such a dedicated family that actually does what it says. I love the oil including the smell."
Jocelyne
Rice Water Health & Strength Hair Mask
"This hair mask not just softened my hair but it strengthened it at the same time. I mixed the mask with my favorite deep conditioner and instantly, it melted my knots away and helped me detangle my hair. After I rinsed it out, my curls looked amazing and my first twits-out ever was a huge success. I had definition for the whole week.!"
---
FOR FREE WITH YOUR PURCHASE
7 DAY EMAIL MINI COURSE - How-To Repair Damaged Curly, Kinky, Coily Hair
Over 7 Days You Will Receive...
- Day #1 - How To Determine the Cause of the Damage

First, you need to figure out what it causing damage to your hair.

- Day #2 - The Fundamentals of Hair Health

What are the building blocks to a successful hair care regimen?

- Day #3 - Protein Vs. Moisture

In depth look at the moist important thing to know about your hair.

- Day #4 - Scalp Health

Happy scalp, happy hair.

- Day # 5 - Toxic Ingredients and Toxic Habits

Know what to look!

Day #6 - How to Survive Heat

Protecting yourself from heat damage. Can you bounce back?

Day #7 - All Natural Ingredients for Healthy Hair and Scalp

Trust nature!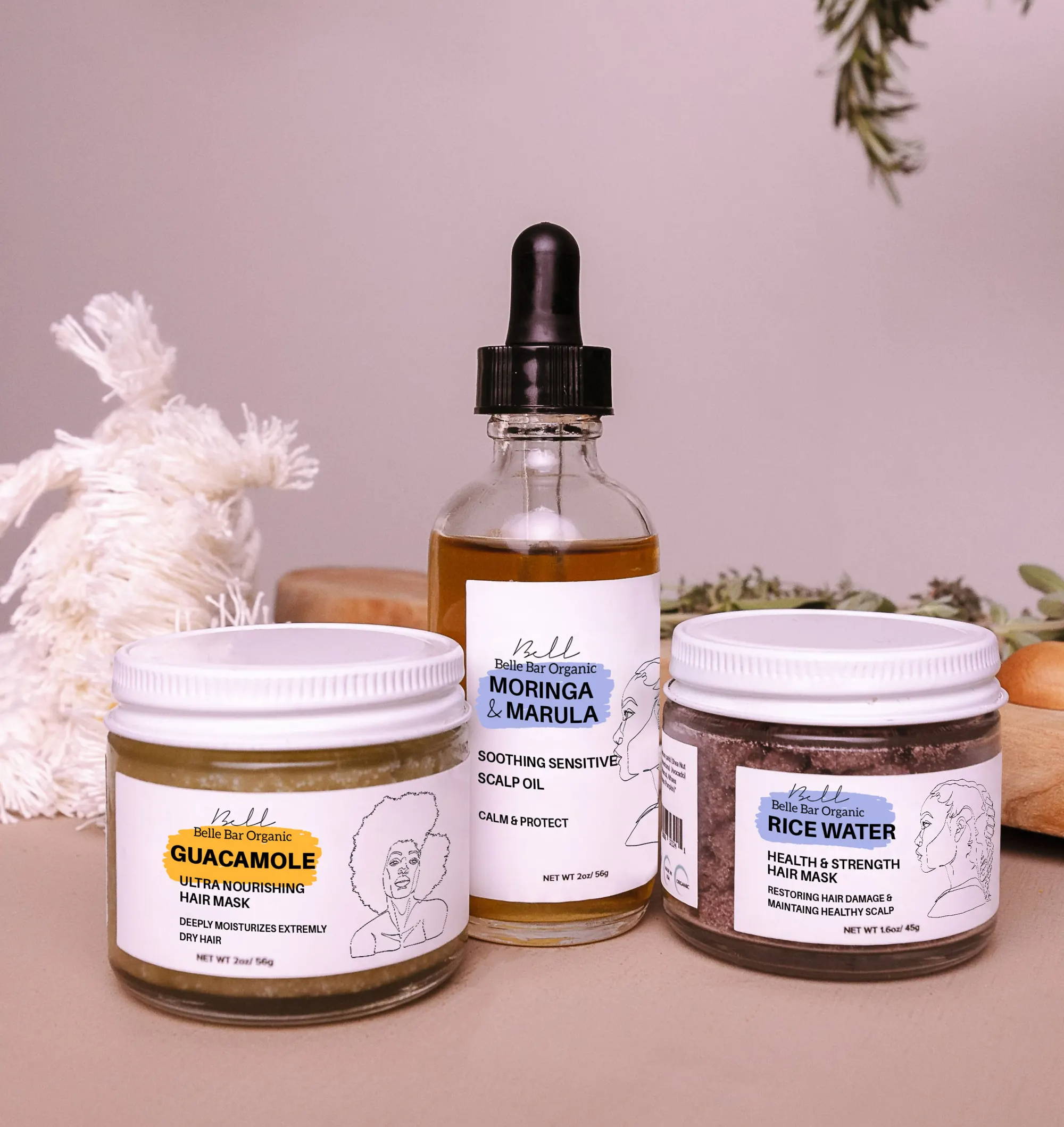 If you feel like you have tried everything and nothing works or maybe you haven't tried anything because you don't know where to start... this is this 4 piece hair kit for you.
 Rice Water Hair Mask gently rebuilds the hair shaft 
Guacamole Hair Mask deeply hydrates,
Moringa and Marula OIl soothes the scalp
Witch Hazel Tea Rinse gently cleans and nourishes your scalp and hair follicles.
+ Free 7 day Healthy Hair Mini Course
PUT INVENTORY COUNT HERE!
Don't want the full kit? While the Moringa & Marula Soothing Sensitive Scalp Oil and the Witch Hazel Scalp Cleanse & Restore Tea Rinse is not available for individual sale you can still scoop up our out two main products.
Insert reviews with stars as usual
Insert dynamic inventory count in red
*free 7-day mini course does not come with individual mask
Insert reviews with stars as usual
Insert dynamic inventory count in red
*free 7-day mini course does not come with individual mask
DOES IT MATTER WHAT POROSITY I HAVE?
At Belle Bar we do not believe in one size fits all. We have created a regimen that has tweaks and tips for each porosity type to achieve maximum hair health.
Does it matter what curl pattern i have?
No it does not matter what curl pattern you has. Belle Bar Organic products were created for all curls, kinks and coils. You know what matters more than your curl pattern? Your porosity!
DO I GET A COMPLIMENTARY SAMPLE WITH MY ORDER?
All orders come with 2 complimentary samples. No need to put in the discount code. At this time we cannot take requests for samples. It's a surprise!!!
I HAVE SENSITIVE SKIN, CAN I USE YOUR PRODUCT?
Well, Belle Bar was just made for you. Our products are a lot more gentle because we do not use chemical, preservatives, fragrance, or fillers. Just nature.
I DO NOT HAVE NATURAL HAIR OR CURLY HAIR CAN I USE YOUR PRODUCTS?
Our products work for all hair types and skin types. Relaxed or Natural, Curly or Straight!
I'VE NEVER USED AN ALL NATURAL BEAUTY PRODUCT BEFORE. WHAT AM I MISSING?
You are missing chemicals!! Yeah!! Our bodies are inundated with this stuff and it's making us sick. Our body is our largest organ and it has been said that "60% of what we put on our skin ends up in our bloodstream." So why not put things that are good for us on our skin. Ever since we started doing the in-depth research about natural ingredients we were blown away by the capabilities of fruits, spices, flowers & vegetables. Once you see for yourself the benefits and effectiveness of using organic skincare, we highly doubt you will want to go back.
This is a very important question. We absolutely make no claims about the benefits to your skin and hair. We are not medical doctors or scientists. We do know that these natural ingredients have been proven through years of holistic treatments and ancient wisdom to give the body certain benefits. We use ingredients with a ton of vitamins and antioxidants. Your body loves that type of thing.
If your skin or hair feels irritated from using a Belle Bar product, please discontinue use immediately. DO NOT use a product that contains an ingredient you are allergic to. We list all ingredients from each cocktail on the label. Please see a doctor if you need to address specific concerns, Belle Bar should not be used in the place of a licensed doctor.  
Before taking any herbal remedy for your psoriasis or psoriatic arthritis, talk with your doctor. Some herbal remedies can cause dangerous interactions with your medications.
Also, you should not take some herbal remedies if you are pregnant or breastfeeding, or if you have pre-existing medical conditions such as diabetes or high blood pressure, or mood disorders. Stop using the remedy immediately should you experience side effects and tell your healthcare provider.
HOW ARE WE PRESERVATIVE FREE?
We use organic, dehydrated ingredients, so we can keep our beauty cocktails all-natural and preservative-free! NO WATER, NO PRESERVATIVES. The dehydrating process not only removes water, it concentrates nutrients & vitamins.
For example, one tablespoon of coconut water powder is equivalent to drinking all of the coconut water contained in an average size young coconut. Your body gets to reap all of those benefits topically. The reason we wanted to create a preservative-free line is for health reasons. Our skin is our body's largest organ & up to 70% of what we put on our skin ends up in our bloodstream. We wanted to create a beauty product that not only helped you look your best, but that was also good for you.
ARE WE VEGAN, ZERO WASTE AND/OR SUSTAINABLE?
Many of our products are vegan!
Our actual products help fight waste because DIY your own beauty products with all fresh ingredient, sometimes the beauty products goes bad because they have a very short shelf life. We use dehydrated ingredients so there is no waste. We also work really hard to minimize our own waste as we produce our products in-house.
Our packaging is made from recyclable packaging and can also be recycled after you finish our products.
Our two biggest suppliers where we get over 80% of our ingredients from focus on sustainability. Their ingredients come from sustainable organic farming, they also use wildcrafted and harvested plants, both are fair trade facilities, and both are energy-efficient facilities. One facility is a zero-waste facility and the other has reached 50% recycled waste with a commitment to reach zero waste.
We test our products on ourselves and the rest of our "product- junkie" friends, family and private facebook group Beauty Buffs. Nothing furry or fluffy has been harmed to test these cocktails. No animals allowed. Once again we make no medical claims.
WHERE IS BELLE BAR ORGANIC LOCATED?
BELLE BAR ORGANIC is located in New York City. Our ingredients are flown in from all over the world but our products are mixed right here in Brooklyn, New York.
What About A 10% Discount Off
Your Next Purchase?
Subscribe for Belle Bar newsletters and get 10% off for your next purchase.
Don't miss the information about discounts, sales, and new products.
30 Day No Questions

Asked Return Policy 

Free Shipping Over $85

Throughout U.S.

Exclusive SMS & E-mail Deals