---
We Are Having A Sale On The Founders Favorite Products!!

Guiding Women Of Color Through The Natural Hair Journey.
Organic Products. Natural Hair Education. Community Support.

Free Shipping Over $49 Throughout U.S.
30 Day No Questions Asked Return Policy
2 Free Samples In Every $35+ Order
Over 1000+ 5 Star Reviews
---
We are officially 3 years old! We can't believe it.

It has been quite a journey building this brand. It has taught us so much about who we are and it has made us so passionate about our mission, which is to serve women of color. To share the magic of a holistic lifestyle, to build communities, to teach, to listen, to empower and to create beautiful products. When we first started this we thought we were just going to build a fun beauty brand but now its so much more than that. It's our life's work. So thank you for supporting us and coming along with us for this ride .
xoxo

Tianna, Solange and Annette Bell (aka Mom)

30 Day No Questions Asked Return Policy
Free Shipping Over $49 Throughout U.S.
2 Free Samples In Every $35+ Order
Over 1000+ 5 Star Reviews
OUR AMAZING COMMUNITY & THEIR RESULTS!
Thousands of women have ordered and used our products over the last three years and have seen amazing results!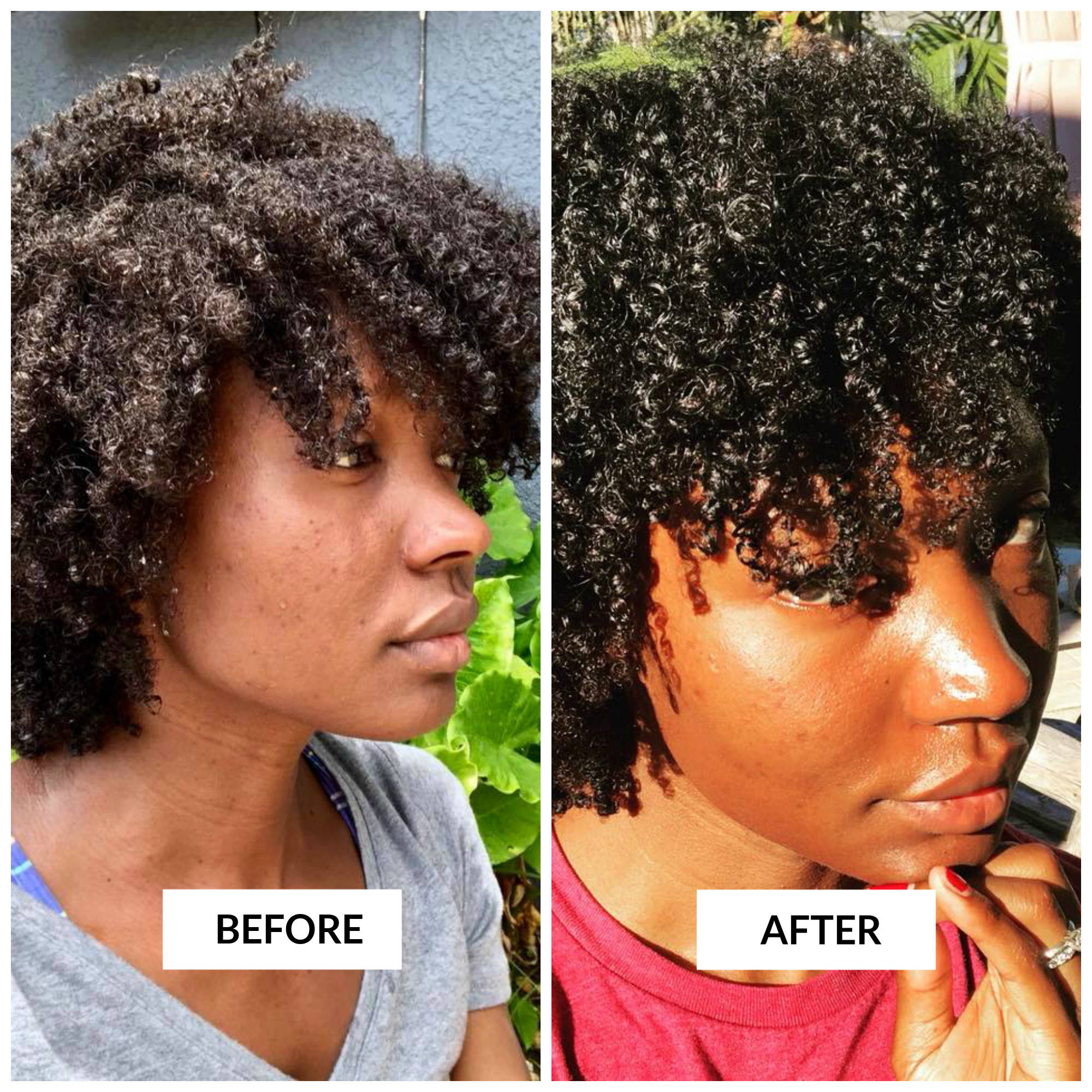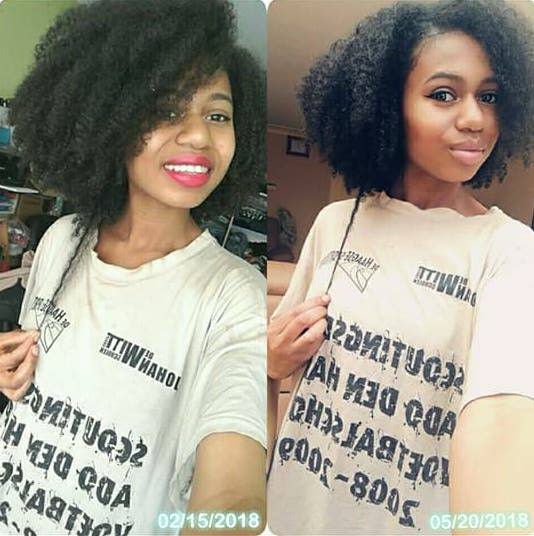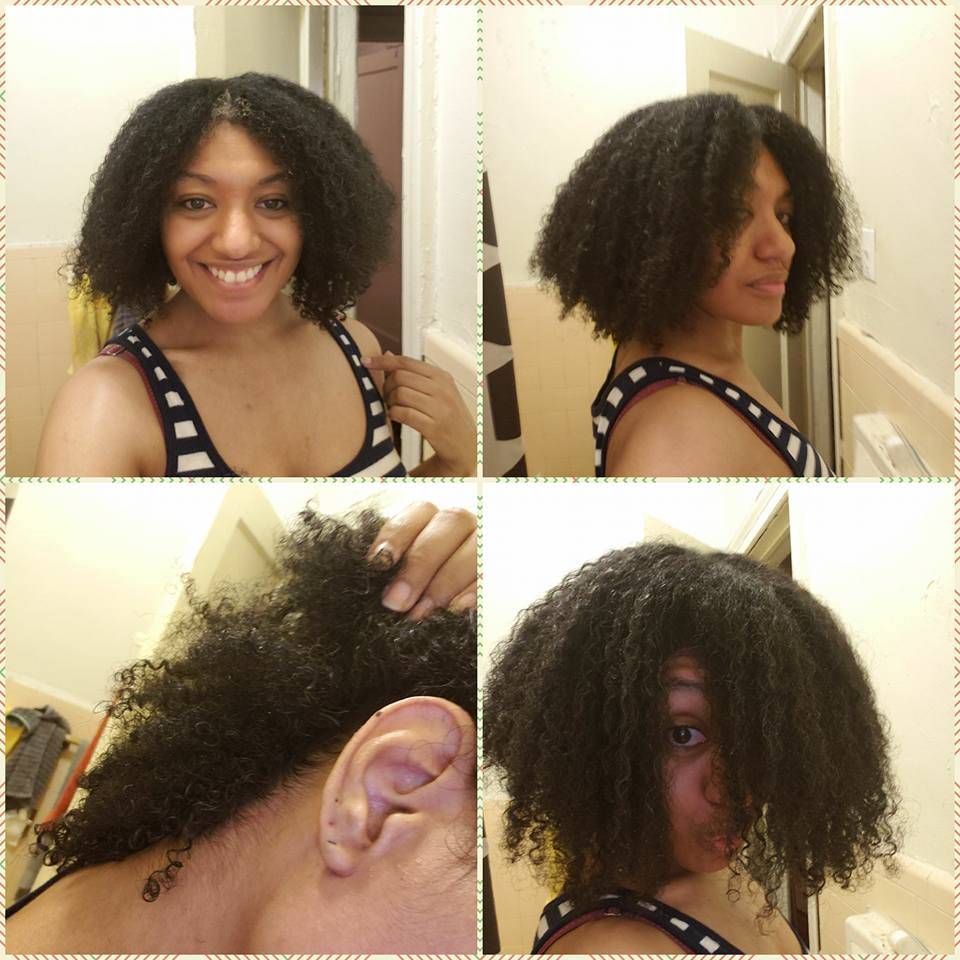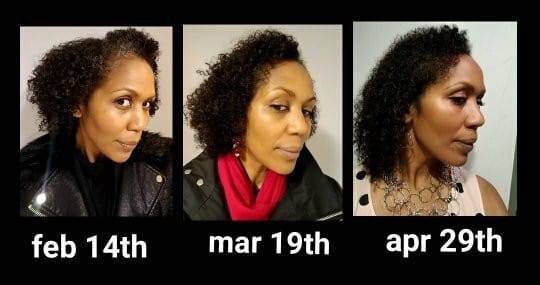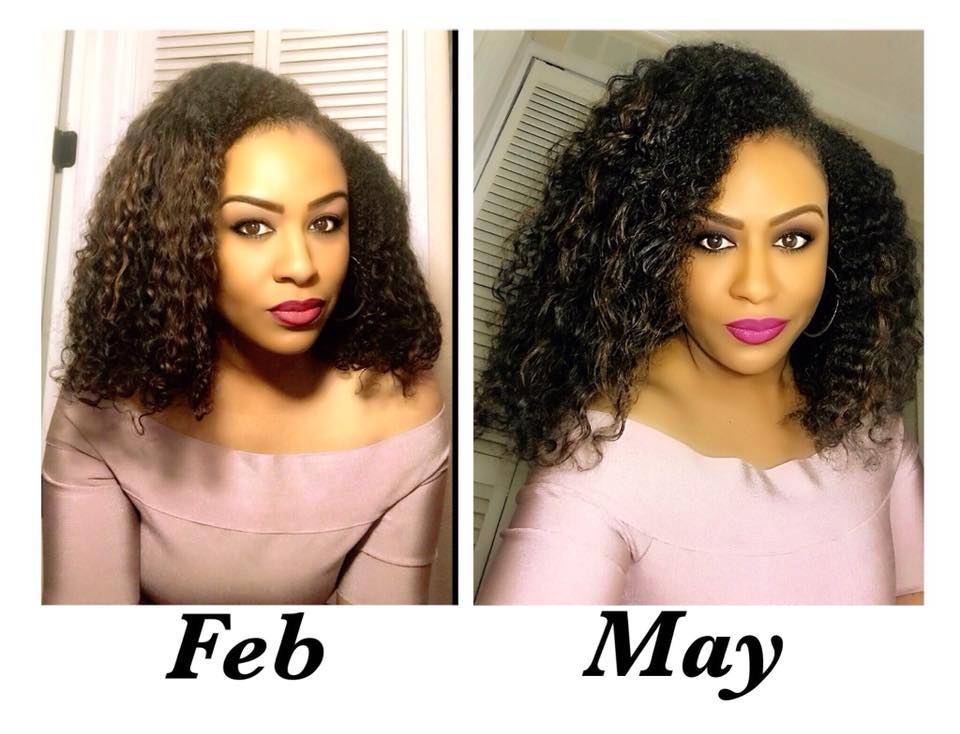 Tramell
#GLOWBABYGLOW - 6 WEEK JOURNEY TO CLEARER SKIN
"GlowbabyGlow end of the challenge but not for the regimen! First things first, consistency is KEY! I will admit that I may have missed a day or two in doing the masks. I have seen incredible improvement in my skin. My skin is brighter, blemishes are lightening and pores appear to be smaller. The oil is my favorite, a little goes a long way. It leaves my skin feeling silky without being overly oily, which I already am. My mom and sister gave noticed a difference and have since purchased kit. I would definitely recommend this to anyone, especially those more into the natural side of things. #consistency #anaturaljourneytoabetteryou #glowup"
Cheley F.
HIBISCUS & BLACK SOAP MOISTURIZING HAIR CLEANSER
"I sectioned my hair into six, and began applying the black soap using a spray bottle (also make sure the water is slightly warm). The hibiscus black soap coats my strands making my hair feel stronger as I'm washing each section. I noticed my curls were becoming defined as I was finger combing, as I was spraying in the blacks soap. My scalp felt so clean and hair felt refreshed."
 

Onion & Garlic Thickening Ayurvedic Herb Hair Oil
"BelleBar Organics gives my hair LIFE! I can't even pick a favorite product!!! Everything they make fits so perfectly into a system that WORKS. The garlic oil revitalizes my scalp and strands; and it works AMAZINGLY with the black soap, ANY mask I use (I have them ALL), the marshmallow root detangler, and the tea rinse which I use every morning...my...curls...POP!!! I used to be a serious PJ but I found EVERYTHING I need in ONE company AND everything's ORGANIC...tuh...BELLEBAR for...thee...WIN hunTY!!!!!"
---
NOW LET'S GET TO THAT SALE!

20% - 25% OFF OUR TOP SIX FAVORITE PRODUCTS

USE DISCOUNT CODE: HAPPYBIRTHDAY3

*cannot be combined with other discount codes
---
Meet Our Founders & Their Favorite Products
We get asked the same question over and over again: What's our favorite products? So not only are we going to tell you our favorite products in honor of our 3rd birthday we are also putting our favorite products on sale. We hope you enjoy them as much as we do!
Meet Tianna Bell
My thoughts on #GLOWBABYGLOW..
My thoughts on our Chebe Growth Hair Mask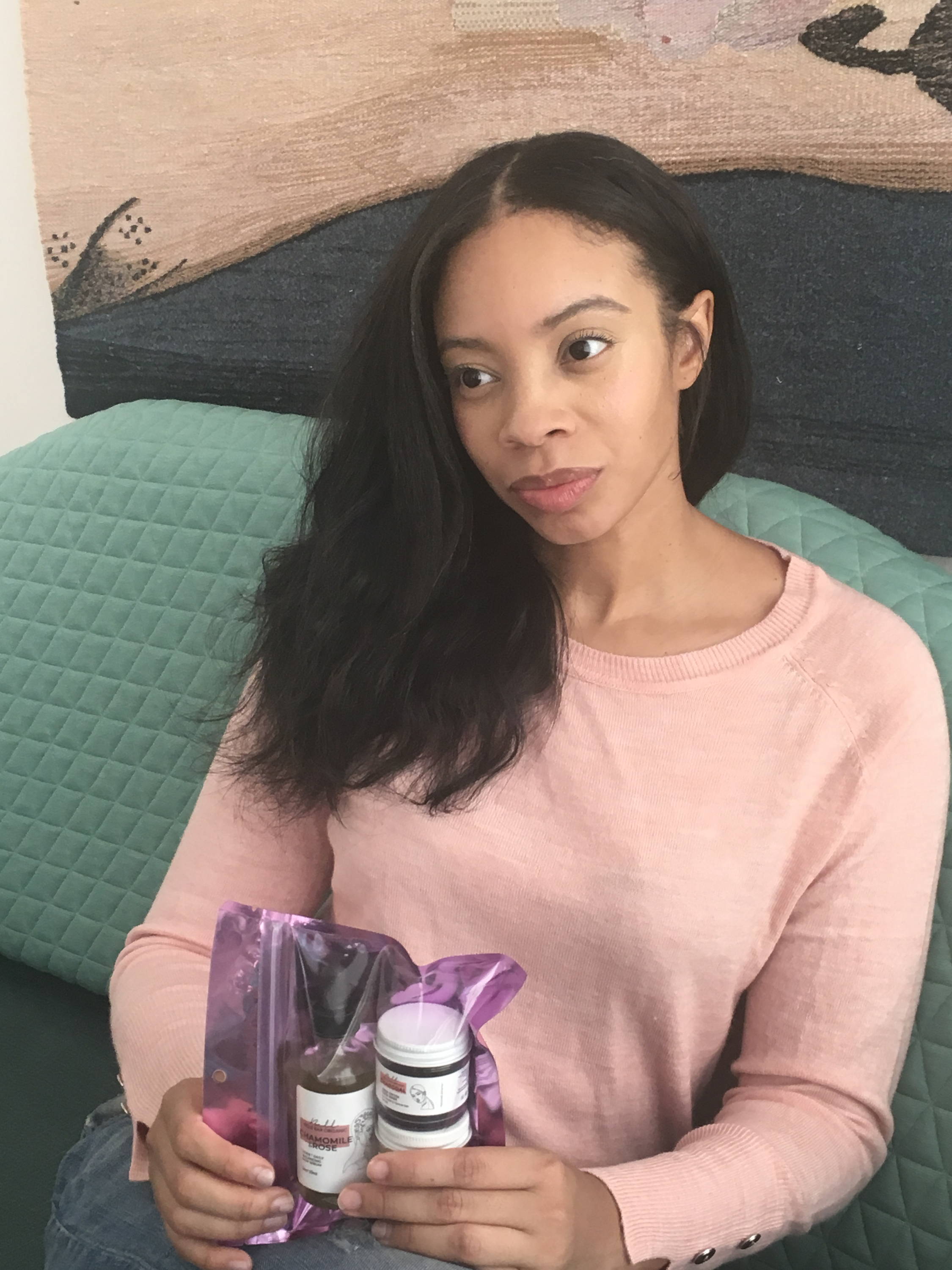 ---
#GlowBabyGlow Skincare Kit
Ready for amazing glowy skin in less than 6 Weeks?
Bright, glowy skin is all the rage. It seems like everyone wants that natural glow sans makeup, and with our #GLOWBABYGLOW regimen, you can achieve the glazed donut looks of your dreams. You have asked and we have answered, for the next four days we are opening up our vault and bringing back our best selling skincare line. If you haven't heard about it ask a friend. Better yet, get one now and ask questions later!
BEST FOR SKIN TYPE: Oily, Dry, Scaly, Irritated, Breakout-Prone, Dull, Hyper Pigmented, Acne Scars, Blemished Skin
STAR INGREDIENTS: Charcoal, Papaya, Chamomile, Calendula, Neem & Rose
Our Chebe Hair Mask was created by Women of Color, for Women of Color, specifically to nourish 4A - 4C hair textures and benefit all hair porosities. Low, High or Normal, we can assure you, our mask will boost your hydration and strengthen your hair to grow beautifully.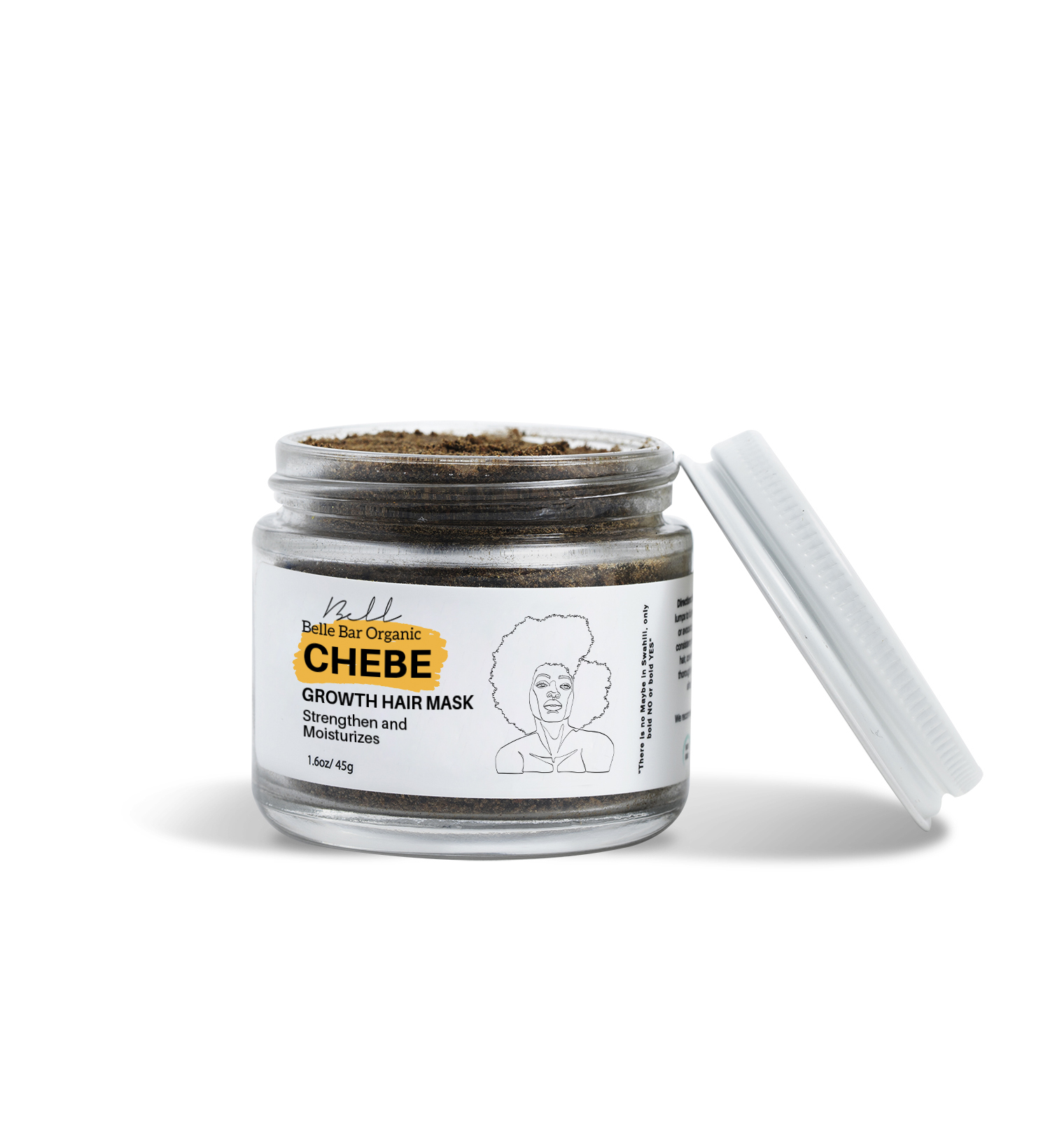 Hey girlfriend, if you're looking for a way to super boost your hair-care regimen, treat yourself to our amazing Chebe Hair Mask. Think of our mask as the superfood your kinks and coils have been thirsting for.
So, what are you waiting on? Let your hair drink up! Our Chebe (Shea-Bay) Hair Mask was formulated using all-natural, non-toxic and curly hair friendly ingredients.
The base of our mask comes from Chad, Africa, where women are known to beautifully grow their 4C kinky hair to their hips. Those women credit Chebe powder for those results, and in the spirit of sistahood, we want to pass those benefits to you.
Meet Solange Bell
My thoughts on Haircare Sample Collection
My thoughts on our Onion & Garlic Ayurvedic Hair Oil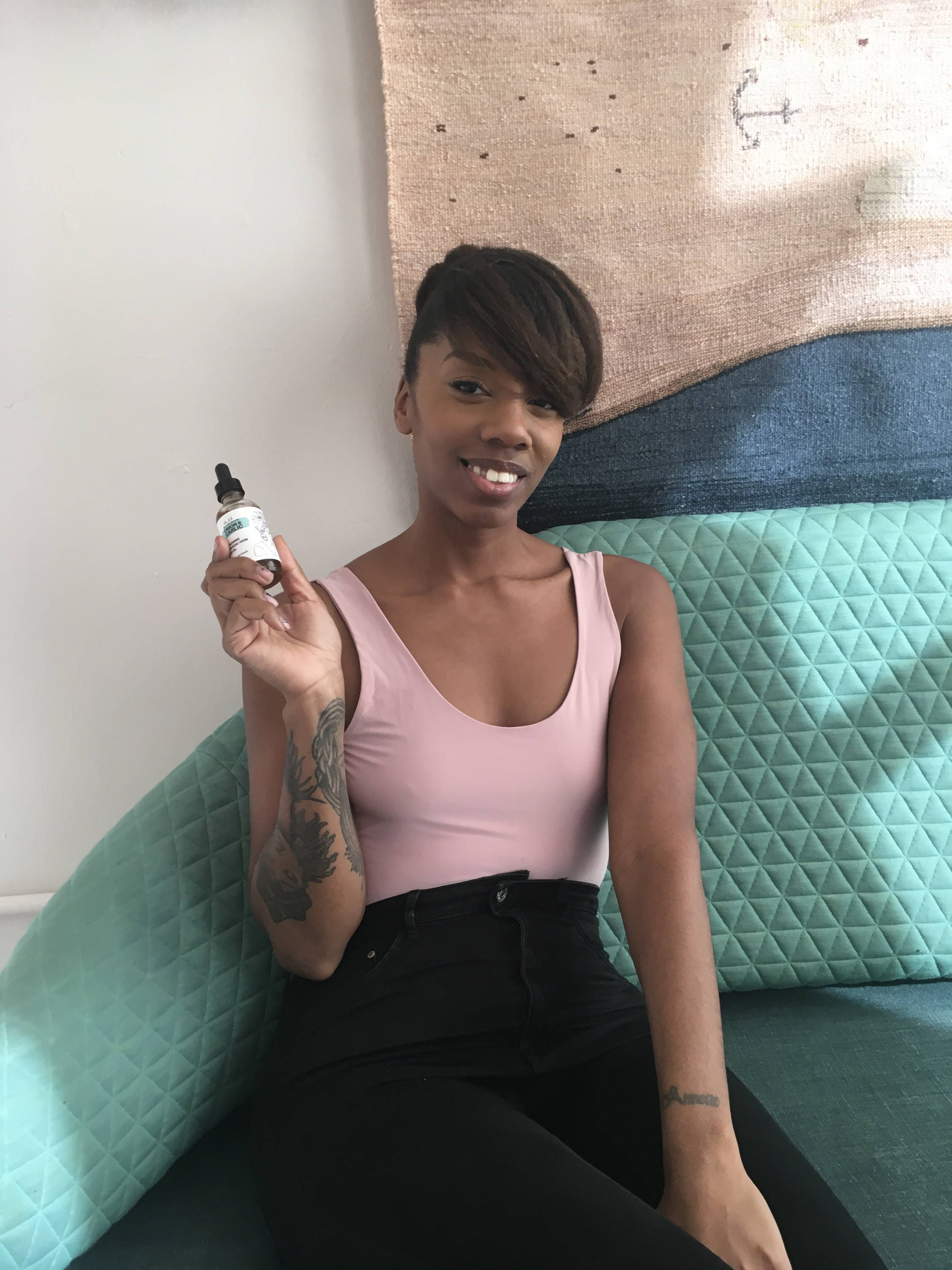 ---
Haircare Sample Collection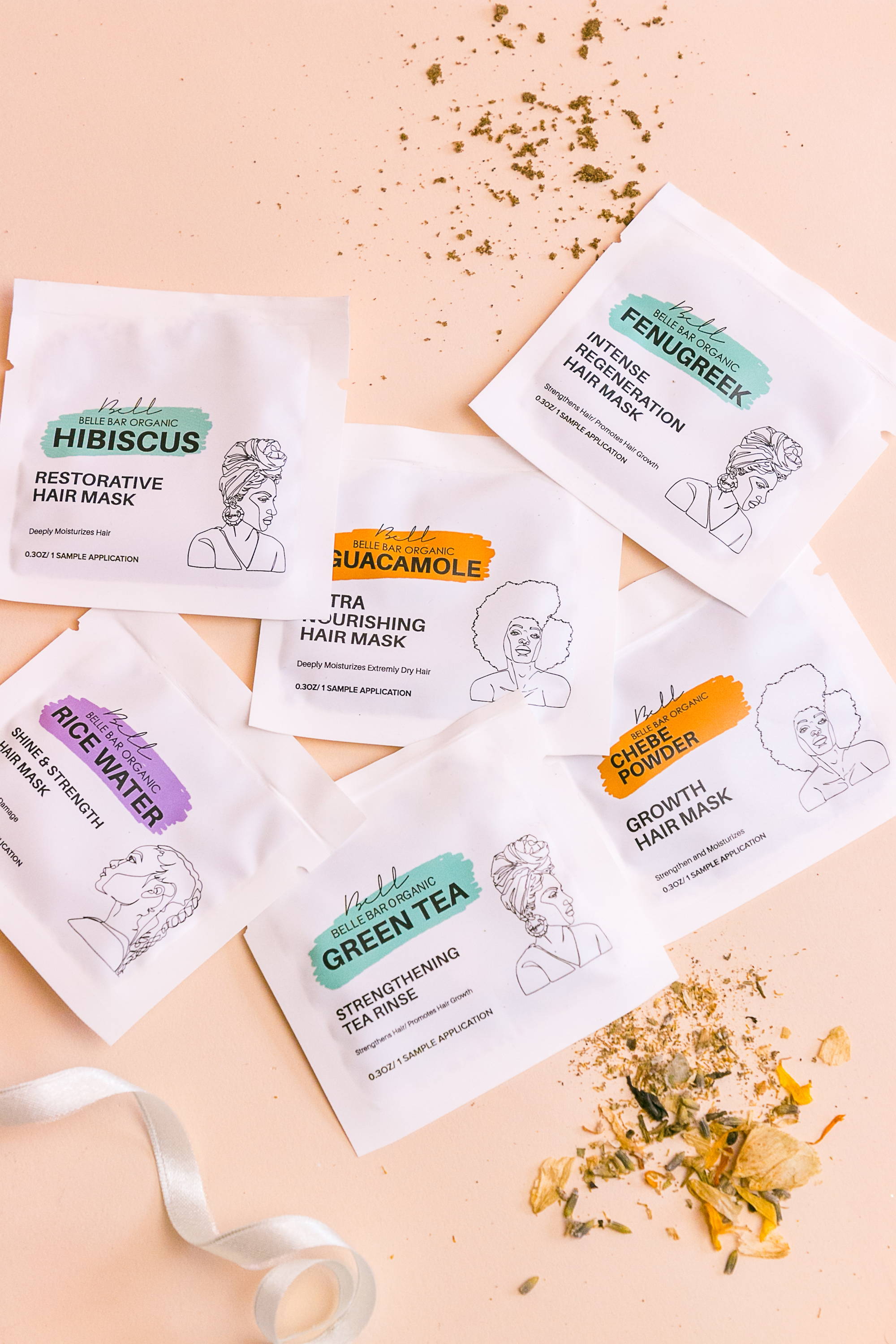 Every wanted to try Belle Bar Organic but did not know what to get? Or wanted to get it all? This is your opportunity! Try all things protein and moisture!
Fenugreek Regeneration Sample - Improve the strength and texture of your hair.
Green Tea Rinse Sample - Our Green Tea Hair Refresher was created to treat thin, shedding hair.
Guacamole Sample -Benefits all porosities, to restore your hair health, treat your split ends and leave behind moisturized, shiny curls.
Rice Water Sample - Rice water when used carefully is a great ingredient to rehab and rebuild your hair strands.
Hibiscus Sample - Reduce shedding by strengthening your hair, deeply conditioning your hair and increasing its shine.
Henna Sample - Repairs and restores damaged hair while balancing the scalp for healthy growth.
Chebe Sample - Created to not only moisturize and condition but also lock-in moisture, strengthening your strands, root to tip
If you're wondering why onions and garlic for this concoction, note that the juice from an onion aids in hair growth as it nourishes your hair follicles with its richness in sulfur. Sulfur is the beneficial factor in lengthening your growing phrase…more growth = less shedding. The garlic found in this oil has a high content of calcium, and zinc that are both essential to stimulating growth.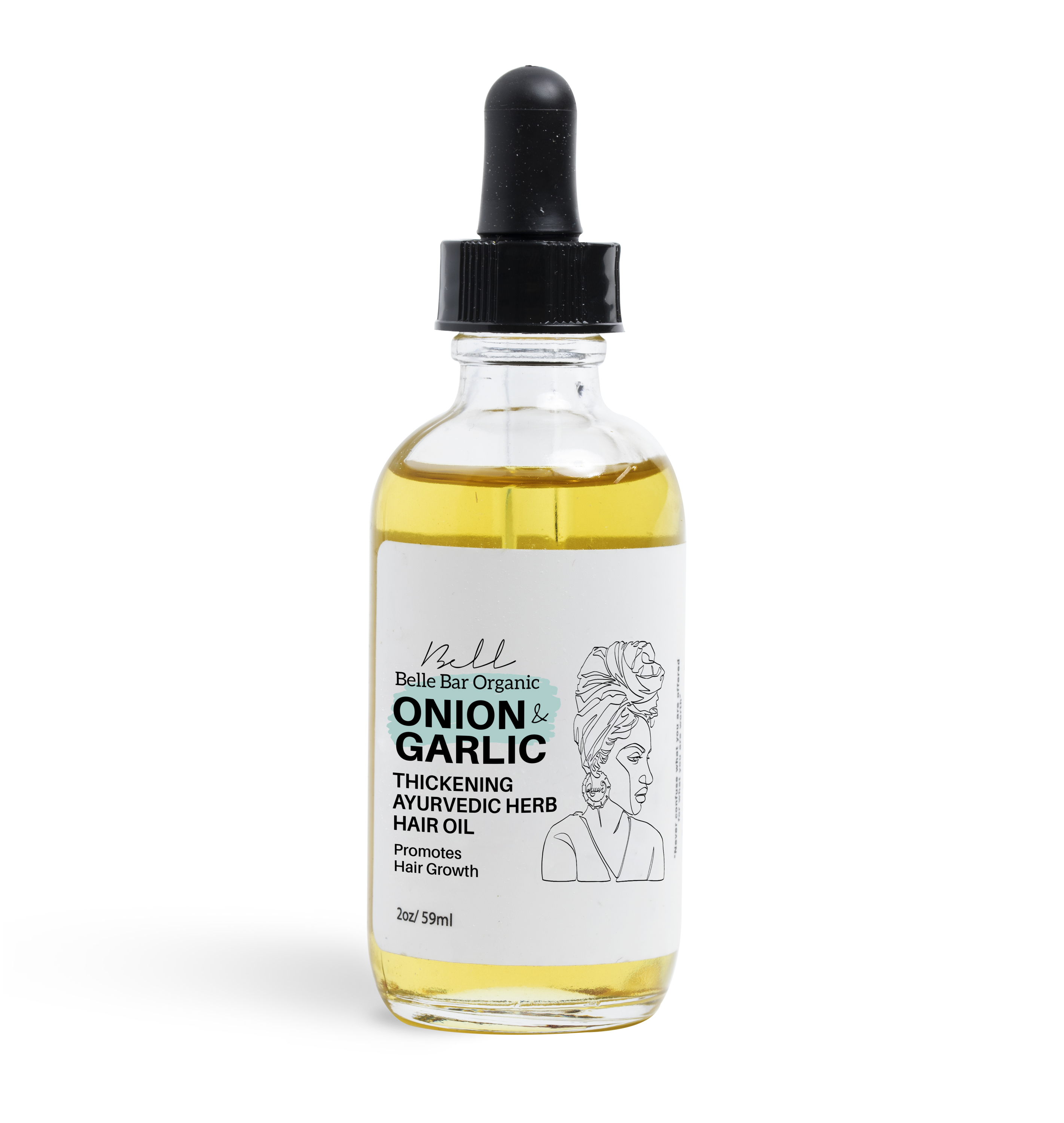 Dealing with thin, shedding hair? Sis, we got you…no need to whimper in frustration, we understand the struggle. That's why we formulated this oil to stimulate hair growth and strengthen your hair to reduce shedding.
Our Onion & Garlic Thickening Hair Oil will be your new go to. Mixed with lavender essential oils, this blend will offer a subtle scent, while the benefits of the oil work overtime. Let this oil join your LOC Method team for maximum benefits.
2 bottles in every order!
---
Meet Annette Bell
My thoughts on our Hibiscus Cleanser
My thoughts on our Golden Sea Buckthorne Hair Butter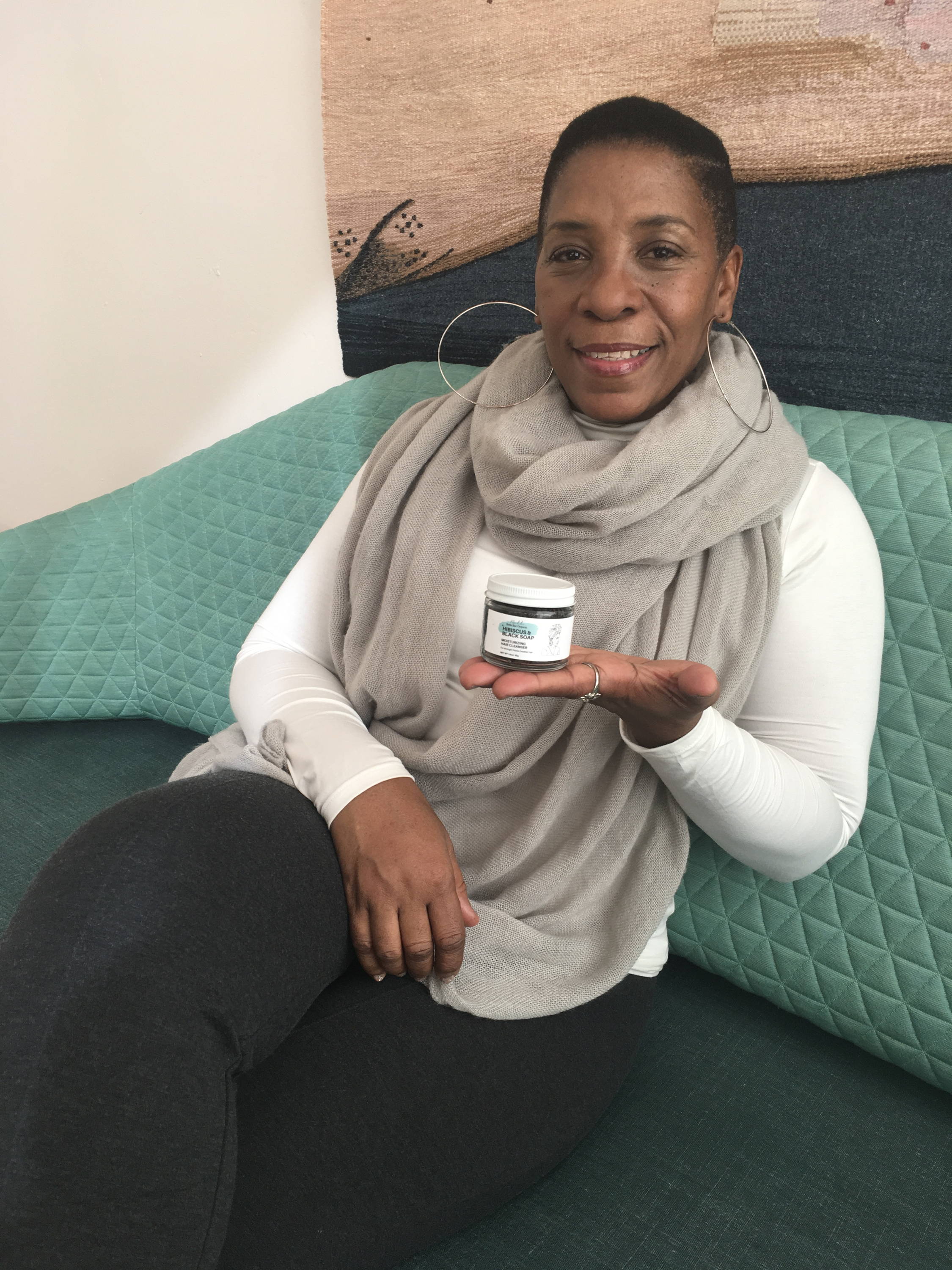 ---
Hibiscus & Black Soap Moisturizing Hair Cleanser

Golden Sea Buckthorne Hair Butter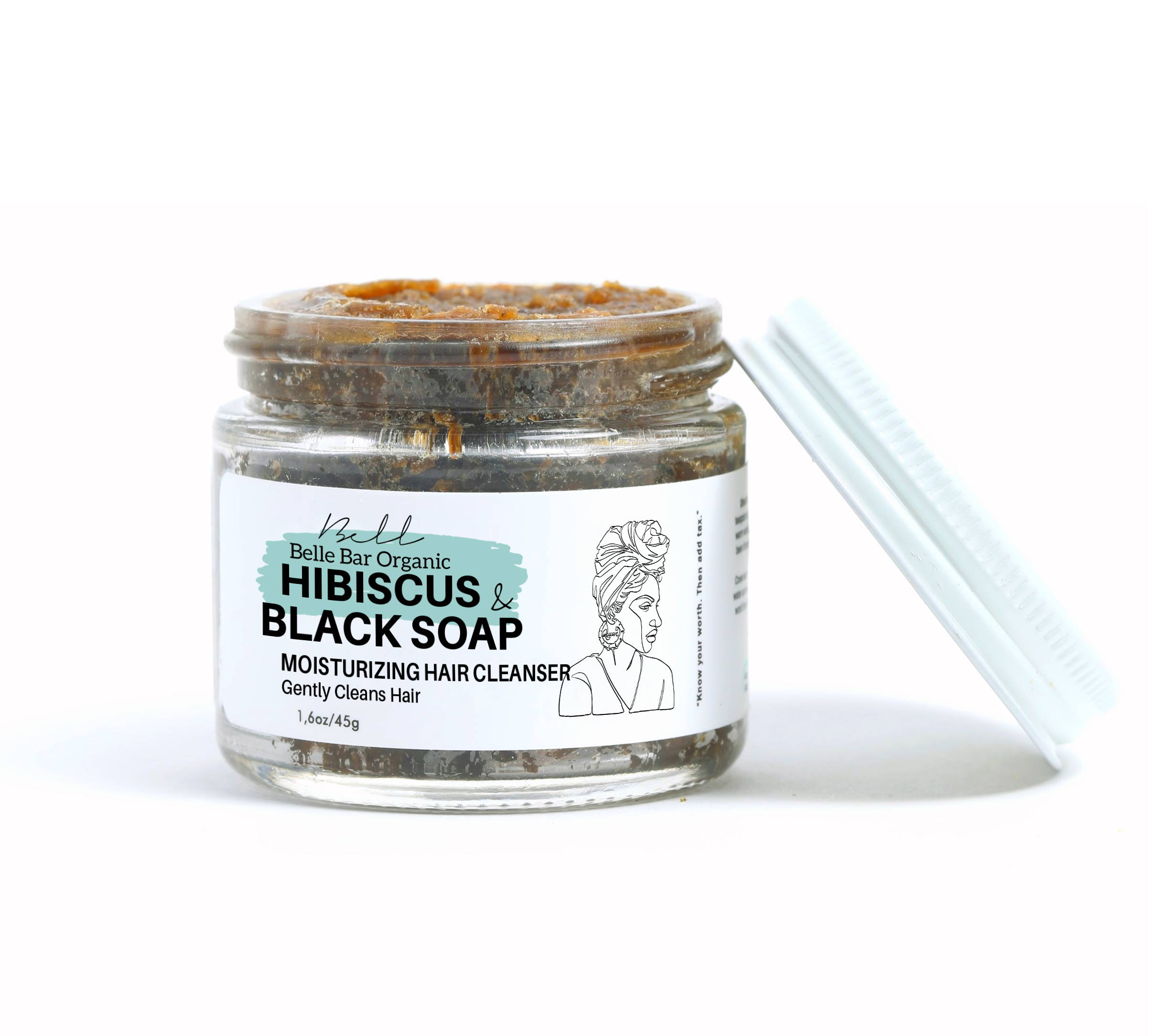 Product buildup can seriously weigh down and dull out the hair, but it's always more noticeable with curly and natural hair. That's where we come in! We've developed a gentle cleanser to get rid of all that gunk on the scalp and restore the hair's natural luster.
And honestly, hibiscus and black soap is a match made in hair care heaven!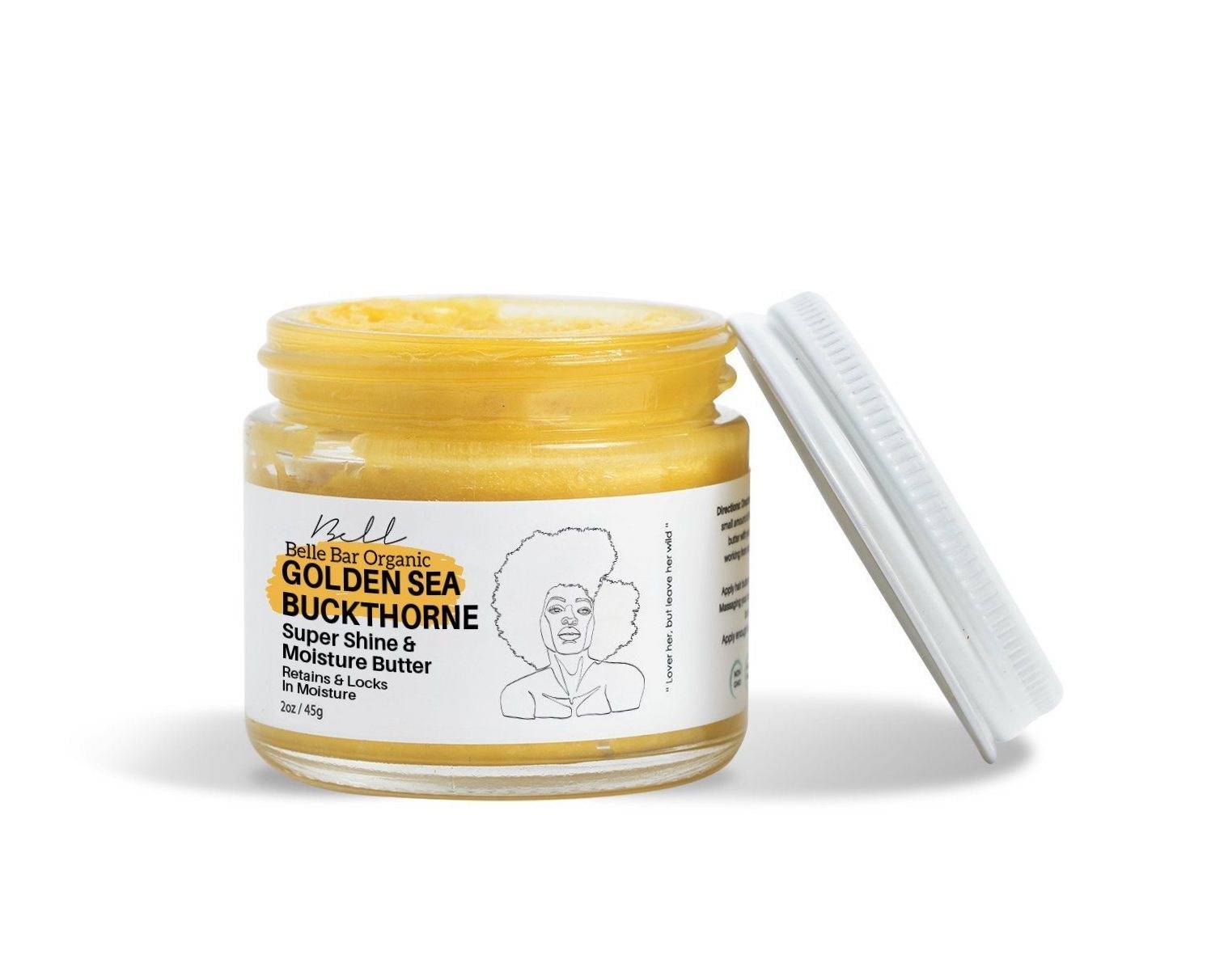 Created for Women of Color who want to treat their 4A-4C hair to hydration. We understand the importance of maintaining moisture and with our butter, your hair will be hydrated and the moisture will lock-in. This butter is beneficial to all hair porosities and will improve your hair health from your scalp to your curly ends!
2 jars in every order!